I Was Seconded to Our Tokyo Office: A Case Study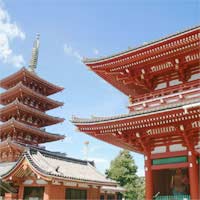 For David Brock, a 29-year old marketing manager from Surrey, being offered a year at his employers Tokyo office was a wonderful opportunity.
David had worked for a firm of Hong Kong-based architects London office for five years when the company decided it would open an office in Tokyo. Rather than staff the new office entirely with new, local recruits, the company decided it would be a good idea to use some of the expertise from its London and New York offices, so gave David and three of his colleagues a chance of a lifetime.
David explained, "My role in the London office was to build relationships with potential customers and then lead them through the design process once a contract had been agreed. The company strategy was to follow the customer from one country to another, so contracts that were won in New York tended to be chased in London, for example. When the company instigated plans to open in Tokyo, the MD asked me, another colleague from London and our opposite numbers in New York if we would be prepared to spend a year in Tokyo to help build the client base using our existing contacts."
Work Hard, Play Hard
Although for two of David's colleagues with young families the offer was not so welcome, for David, a single man with no family commitments, it really was an exciting offer!
He continued, "I couldn't believe my luck! I tried not to look too chuffed though! I was offered a year at my existing salary, but with paid accommodation in the centre of Tokyo and a generous subsistence allowance. Also, as much of my job involved wining and dining clients and potential clients, I had a big expense account too. It actually meant that I was able to save my entire salary while living the life of riley! I did have to work very hard, but I enjoyed it as it was such an incredible city."
With his serviced apartment in the famous Ginza shopping district of central Tokyo and a generous expense account, David was able to be out most evenings entertaining clients. Consequently, he built a great reputation for the company and won a number of large contracts. One area that did take a bit of getting used to was the business culture in Tokyo. Thankfully, David and his colleagues were given a week-long intense course to help them act appropriately in front of Japanese clients, including how to introduce yourself, acceptable behaviour at social functions with clients and the ways in which negotiating is carried out.
Great Opportunity
David concluded, "The year in the new Tokyo office would have been really difficult if I had a family at home – impossible even – but I was able to really throw myself into the job. The year was great in many ways because it meant that I was offered a better contract when I returned because I had made a lot of money for the company in Tokyo. The fact that I saved my salary also allowed me to put a deposit on a flat in London when I returned, which I could never have afforded to do if I'd stayed."
You might also like...