I Applied to Work Abroad After Getting 57 Rejection Letters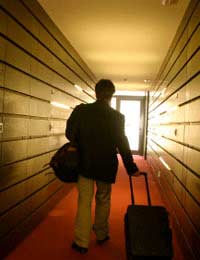 It's always hard to receive a rejection letter when you've taken the time to apply for a job that you really want, but for one graduate, this frustrating experience has happened time and time again.
Duncan Williams, 26, from Derby, graduated in English and History four years ago. Like most graduates, Duncan spent a period of time doing temporary work and travelling after his degree in order to think about what e wanted to do with his life. But this time of relative freedom was not concluded with a full-time job, as it tended to be for scores of graduates fin previous years, as the global recession kicked in and made a strong impact on his options.
Difficult Times
Duncan explained, "I know what happened to me happened to loads of other people too – plenty of friends I graduated with are still yet to find full-time work – so while my experience has not been unique, it's certainly been getting me down."
Duncan spent plenty of time getting his CV into shape and joining all manner of respected online job boards in order to find potential employment. He said, "I have a 2:1 degree from a good university and an employment history that includes sales, business development and communications. I've also worked in bars and factories just to get some money in so it's clear that I'm a hard worker. But I sent off literally hundreds of applications and I only had one interview, which got cancelled at the last minute. I varied my applications, made sure they were all well written…I know I couldn't have done any more. There just aren't the jobs out there."
It was after receiving his 57th rejection letter and realising that the majority of companies didn't even acknowledge his application that Duncan decided he needed a change of scene. He continued, "I realised how much it was getting me down. That compounded how negatively I felt about making more applications, and I knew that every June there were thousands more graduates joining the job search – and that they would not be as down or jaded as me so were more likely to get chosen! It was a vicious circle."
"I decided to do something completely different, so rather than just going on the same job boards and sending off applications, I thought I'd do some random Googling instead."
A New Challenge
Duncan came across a recruitment agency that specialised in matching up British people with homes abroad that needed work doing with people that would swap the work for bed and board in a different country. He sent off his details and quickly had a reply back. He said, "I was under no illusions that the job would be the career of my dreams, but I have to say the idea of being out in the sunshine painting walls or whatever seemed loads better than sitting at my laptop at mum and dad's for another day!"
Following some references and checks, Duncan was offered a month-long stay with a couple in the south of France who needed some handyman tasks completed on their farmhouse. Along with two other people, Duncan was given bed, board and a nominal fee for doing six hours work a day, with weekends off. He said, "It was just what I needed. There were few home comforts as the three of us were sharing a big room, but there was free WiFi and plenty of lovely rustic food, not to mention lots of physical work, so when I came home I had a tan as well as a more positive attitude. The recruitment market in the UK was also picking up a bit and I felt more prepared to give looking for work another go. Working abroad is the best thing I ever did as it got me out of a rut."
You might also like...