Working in New Zealand Helped My Career: A Case Study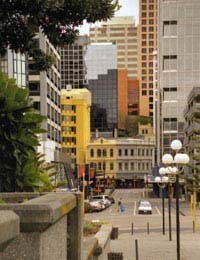 For Callum Timmins, 23, from Basingstoke, his time spent working abroad started off as something to do when he couldn't find a job and finished as a life-changing experience.
Looking for Work
Callum explained, "I went to university in Newcastle and got a 2:1 in history and economics. I wasn't really sure what career path I wanted to follow, but I thought I'd move to London after I graduated and find a job. That's what my older brother and sister had done and lots of my friends were planning the same thing. There always seemed to be jobs around for graduates that were willing to work hard, like recruitment or advertising sales or getting on a graduate trainee scheme."
The problem came when Callum graduated and started looking for work. The early stages of the global economic recession were on the horizon and there were far fewer opportunities available, especially for graduates.
Callum continued, "It wasn't clear that quickly because I was applying for jobs and got a couple of interviews, but I soon realised that the choice of work just wasn't out there and companies that were known for taking people from my course just weren't recruiting. After a period of feeling really disheartened because I couldn't afford to move to London and was back living with my mum and dad, I thought I ought to do something completely different instead of moping around. I was well aware that there would soon be another batch of graduates and I'd not added anything decent to my CV since graduation."
A Change of Scene
Callum decided to visit his relatives in New Zealand to have a change of scene. He said, "My uncle lives in Auckland and he offered me a place to stay for a couple of weeks so I convinced my parents to lend me the money for the flight! As soon as I got there, I went round the main recruitment agencies asking for work. One of them asked me for an interview as an assistant recruitment consultant for the banking sector, which seems strange because of the recession, but they had a lot of temporary vacancies. With my economics background, I thought it would be a good thing to add to my CV and I started the following week. The contract was initially for three months, with a plan to renew it."
After the first three months, Callum found that the recruitment industry suited him very well, although he was not convinced this was his long-term career. Even so, the work enabled him to learn more about the banking industry and, with so many banking clients with a global presence; he was able to work on building a network of contacts.
Gaining New Skills
He added, "I learnt so much about what clients are looking for from candidates, which I really had no idea of before. Particularly skills like networking and team work, but also getting a 'behind the scenes' look at why people are turned down for jobs and what makes a CV stand out."
Callum's contract was extended for a further three months and after six months he was ready to return home.
Callum concluded, "I wanted to move to London to be with my friends and I was aware that there seemed to be more opportunities becoming available. With my new-found understanding of the banking sector, I applied directly to some companies that I had worked with in New Zealand and was able to name-drop some of my clients! I am now at the third interview stage with two banking companies and I hope to start my career as soon as possible!"
You might also like...