I Spent a Year as an Au Pair in Rome: A Case Study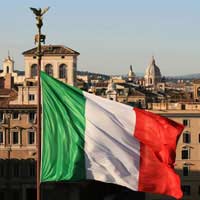 You don't need to commit to years and years abroad to gain the experience of working in another country. There are plenty of schemes and opportunities for short term contracts overseas that give you the best of the adventure without the hassle of actually moving to another country permanently.
Time for an Adventure
After Hayley Jessop, 24, finished her degree, she was not really sure about which career direction to follow, so she decided to take a year out. Hayley told us, "I took a degree in Media Studies and, to be honest, I hadn't really thought about how hard it would be to find a job after I graduated. There seemed to be so many well-qualified people applying for every job going, even the ones that were unpaid. I couldn't afford to apply for unpaid media positions because I had student debts to pay off. My family weren't able to help be financially so I knew I needed to start paid work straight away."
Although some of Hayley's student friends took random jobs just to pay the rent, such as telesales and advertising sales, Hayley did not want to spend all her money on rent when she needed to pay off her debts. She continued, "I decided that I needed to find a job where accommodation was part of the package. It was actually my mum that suggested being an au pair because she said I'd always been good with children. I liked the fact that it didn't have anything to do with my degree course and would give me a chance to think about what I wanted to do next, without getting any more into debt."
A Great Offer
After looking at several online recruitment agencies that specialise in au pair placements, Hayley decided that she would apply to a few positions, mainly those in London, where many of her university friends had moved to, but also a couple in Europe. She was called to an initial interview with the agency and was then put forward to a position with a wealthy Italian family.
Hayley continued, "I was interviewed by the family in London as they had homes here and in Rome and were looking for an au pair to travel between their two homes. I was so lucky because I was offered the position of au pair after the second interview. I had strong references and the family liked the fact that I was university educated. I also have an Italian GCSE which helped, although the parents were keen for the girls to speak English with an English accent!"
A CV Boost Too!
This offer started what was to become a year-long adventure, which was mainly spent in the family's apartment in the centre of Rome. Although Hayley was not paid a great deal, her travel and living expenses were paid for, including Italian lessons. She added, "It was an incredible experience. I didn't really end up saving a great deal of money, but I didn't get into any more debt and I gained fluency in Italian which has really boosted my CV. Since I've come back to London, I've found that my year working abroad helps me to stand out among the other media studies graduates. I'd recommend it to anyone!"
You might also like...