Working in Eastern Europe and Russia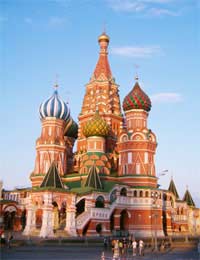 Working in Eastern Europe or Russia is an exciting way to develop your career. There are so many opportunities available across this fast-moving region, although they can vary enormously in terms of money and entitlement.
Overview
The first point to note is that, as an EU citizen, there are many countries in Eastern Europe, such as Poland and Hungary, where you can work without any kind of visa permission. While the salaries are considerably less than the UK, so too are the living costs. Many parts of Eastern Europe have a Mediterranean climate and there is extraordinary history and architecture to explore.
Many people say that one of the most difficult aspects of working in parts of Eastern Europe such as Bulgaria or Russia is the fact that, unless you have some understanding of the language, you feel so totally isolated because the characters are completely different. This means that you don't recognise any words on signs or in shops, unlike in, say France or Italy, where even if you don't speak the language, the same letters are used and you can guess as to how a word may be pronounced.
It is a very good idea to gain at least a rudimentary knowledge of the language as this will not only help you to feel part of the community, but it will also help your experience of the workplace.
Working in Eastern Europe
If you chose to work in a country that is part of the EU, it is very easy to find and accept a job as you do not need an additional visa. However, if you are staying over three months, you will need to ensure that you are registered with the correct authorities. The best way to do this is to contact your local tax office in the UK before you leave and ask their advice about your upcoming circumstances.
You are entitled to apply for and gain any job in the EU that you are qualified to do, although most people that go to work in Eastern Europe are either students or graduates on a gap year. As the region develops, however, more and more established companies are looking to set up offices in the area, so secondments are gaining in popularity. The huge benefit of this is that you're likely to be receiving your same UK salary in a country where your money will go an awful lot further.
Manufacturing in particular is increasing rapidly in the so-called low cost countries, so there are excellent career moves possible within large organisation.
Working in Russia
Russia is so very different to the UK! The language, the history, the culture, the weather, not to mention the food and the fashion. As one of the world's fasted growing economies, Russia has lots to offer people looking to work abroad.
Teaching English as a Foreign Language (TEFL) remains a popular choice for Britons working in Russia, although as huge numbers of blue chip clients expand across the region, there is every job imaginable available. It is worth noting that it is far easier to apply for a job with a British (or US or European) company who are looking to recruit for their Russian operations as opposed to applying directly to Russian companies.
The Russian working culture is rather strict and hierarchical, with networking taken very seriously. Russians are proud of their culture and you may be lucky enough to be taken to a ballet, opera or concert with your new company. Western graduates are much in demand, so if you do get the opportunity to work in Russia, you certainly won't regret it.
You might also like...