The Best Countries to Find Career-boosting Work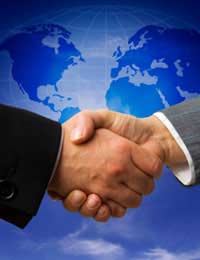 Even though the newspapers are full of stories about how hard it is to find gainful employment at the moment, one area where there are still certainly plenty of opportunities is working abroad.
Now is the ideal time to fulfil a long-held dream of taking a little time out to work abroad for all sorts of reasons. First up, a break in your professional career on your CV will make perfect sense because of the economic downturn; any stresses you may be feeling about potential or actual redundancy will be almost instantly halted when you start an exciting new chapter when you go and work abroad; your perhaps-a-little-negative attitude will be given a boost after breaking out of your current rut and finally, you will give yourself a valuable way to stand out from the crowd when meaningful jobs are hard to come by.
So what are you waiting for?! Is it that you just don't know what work is available in what country? Well here we have a little crib sheet to help you appreciate where is right for you and your introduction to the work of working abroad.
Europe
Assuming you're based in the UK, Europe is perhaps the easiest place to find work as it's a) close and b) you don't need any type of visa. Of course, there are also all manner of language issues as well, but more on that later. Depending on the type of experience you're looking for and your particular skills, you can find all manner of opportunities working in Europe.
France
A classic destination for people wishing to work abroad, France is packed with opportunities for short-, medium- and long-term career employment, both in terms of career-boosting jobs that suit your current profession and confidence-boosting jobs that will boost your career when you come back to the UK.
Career-boosting jobs in France tend to centre round the French offices of large companies in your field; not necessarily the same company you've already worked for (although sabbaticals to European offices are easy to arrange and a good way to keep continuity on your CV if that is a big issue in your field). Ask your HR department if it's possible, but try to do a little homework on other people who have done this to make sure it's not career suicide in your particular company. You can also apply directly, although your language skills will need to be more up to scratch with this approach. You could also try applying to the French office of companies that appeal to you in the UK but may not be recruiting - the head office will often have English as its main language and you'll be able to perfect your French while you're there.
France is also a terrific place to get totally different work experience, from the grape picking jobs of gap year fiends to busking in busy resorts, there are all manner of jobs available if you've got the gumption and energy to make it happen. OK, so it is probably totally outside your professional field, but that doesn't mean it won't boost your career – you'll be showing you have an adventurous and entrepreneurial attitude, which many companies love.
USA
It's true that there's something a little out of the ordinary about having a period of working abroad on your CV, especially when you're applying for the types of jobs where there are literally hundreds of photo fit applications. And, whether we like it or not, working in America adds a little extra, especially if you've managed to gain some employment (or even just unpaid work experience) in the fancy Manhattan offices of a big name.
It's worth remembering that UK passport holders need a work visa to work in the US, but you can stay on a tourist visa for a maximum of three months, so it may be worth not being paid (or just getting expenses) as long as you check the current visa details. Some companies will also be prepared to apply for a work visa for you, but this can be an admin-heavy process, so you will be a far more appealing prospect if you've already sorted out your own work visa, or are prepared to pay a professional to do it for you – you'll make more money in the long-term and will be more likely to gain that valuable work placement if you have a work visa in place. The types of work that you can find relatively easily in the US include classics like bar work and waitressing, but also contracts with television and film production companies (apply directly), international journalism companies (both online and print) and working as a nanny - there's a real kudos for having a British nanny.
Asia
Working in Asia is a crazy experience; plenty of expats going about their business in the hustle and bustle of some of the world's most exciting cities makes for a terrific way to add value to your CV and help it stand out from the crowd. Be prepared for a total culture shock, but one that will stay with you for the rest of your life.
Many companies offer secondments to their Asian offices, and these can either be highly sort after or the worst option, depending on the average age of the employees and the business they are in. If it suits your family/personal situation and there is a position offered – go for it! The only thing to bear in mind is that is you must keep ahead of the trends in your industry back in the UK while you are away to avoid that classic 'expat returning to London and thinking they're God's gift' as they've been in a bubble for the last few years!
It can be difficult to arrange your own employment in Asia however. But one tried-and-tested method is to teach English as a foreign language. The money's not great but you'll meet like-minded new people and, as long as you go through a reputable company, you'll have all your visa issues sorted for you. This can either be done for adults via language schools (search online) or through international schools for children. The TES (Time Educational Supplement) is a good place to look and there are also a number of companies on line that can arrange placements.
You might also like...
Its god site to get information about to get work in abroad so do i and also fully satisfy..
Bikram
- 2-Jul-14 @ 7:32 AM