Teaching a Specialist Subject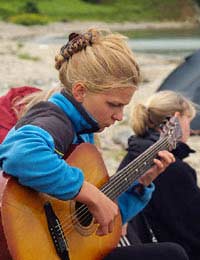 Most summer camp work is fairly general in nature. You look after children and lead them on various activities, many of them quite physical. But not all camps fit into the "adventure holiday" mould and even those that do sometimes offer niche experiences to the children. In practice, this means that there are lots of opportunities for those who can give lessons in specialist subjects.
Don't be put off by the term specialist subject. With a few rare exceptions, you're not going to need a PhD, for example. Bear in mind that these are often very young children who are being taught so even a small amount of knowledge on your part may seem like a very high level to them.
Turning Hobbies Into Lessons
If you're like most people, you probably have a hobby or interest you spend lots of time on. Without realising it, the knowledge or skill you have built up in this area may be quite significant. And now you may be able to spend a summer passing it on to young children. Maybe you have great sports skills. You were on the school football team; you're good at playing golf. Perhaps you love dancing. You play a music instrument. Or you set up your own website and are a wiz with computers.
There's a good chance you can make use of all those experiences and skills at summer camp. Many camps structure their division of labour in such a way that there are general "counsellors" who look after a specific group of children throughout their stay in the camp, and activity leaders, who, as the name suggests, will lead specific activities such as tennis-playing or archery sessions. It is the skills you list on your application form which will determine the tasks you are assigned to do, so there's every chance you will end up giving a lesson in the things you love doing.
Teaching English
As a Briton, you have a great advantage compared to young people from other countries: you can speak English! English has become the closest thing the world has to a lingua franca, and there is a great demand for learning it worldwide. You might think you'd need to know the native language to be able to teach local children a foreign language. But that's not necessarily the case. There are TEFL (Teaching English as a Foreign Language) techniques which allow a person to impart knowledge of their own language without speaking anything else. Usually, you would have to go on a course to learn these skills, but sometimes, a camp will give you prior training or let you learn on the job.
More Specialised Skills
Over and above the skills you might just have picked up without really thinking about it, there will be teaching positions too for those with knowledge in a distinct area. Let's say you're a university student of Maths or Science; for example, you should have no problem teaching much lower level maths to a group of children.
There are even camps which teach expert-level skills to people in specialised fields. IT professionals; for example, may decide to spend their summers picking up a new computer language rather than lolling on the beach. Teaching at this level requires serious expertise.
Conclusion – Teaching a Specialist Subject
There's more to summer camps than camp fires and sing songs. Children often learn new things there. And that means someone has to teach them. If you have the right skills, it could be you.
You might also like...