Organising Group Activities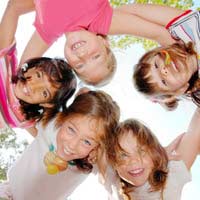 When you're working as a guide or counsellor at a summer camp, much of your work will revolve around organising group activities for the children. Typically, this will be a small group of up to about eight children for which you are personally responsible. Sometimes, the smaller groups will come together and participate in activities jointly.
Specialist Activities
Most often, staff roles involve a division of labour between those who are responsible for looking after a specific group of children, and those who specialise in particular activities with multiple groups of children. For example, if you are an activity specialist, you may be in charge of, for example, archery practice. In a typical day, you will see several different groups of children, each of whom come and spend an hour or two engaging in your activity.
Sometimes specialists have a number of distinct roles rather than just one. The archery specialist may also handle evening swimming, for example. If you are a specialist, your role should be fairly well defined. You will probably have prior experience of the activity before arriving at the camp, and, during your induction procedures, will probably have been given specific instructions about how the activity is handled on that site.
General Group Activities
If you are a more general camp counsellor, you will still have to organise activities and the nature of these activities will be less rigidly defined. Boiled down to its essentials, your role at the camp is to see that the children have fun and to keep them happy while they do it. If you see a bunch of kids sitting around with nothing to do, then, your job is to fill in the gap. Since it's sometimes difficult to come up with something on the spur of the moment, you'll find it helps to have a few activities in mind, ones you've thought out in advance, ready to be called upon when needed.
Group Activities at Camp
If the idea of organising group activities for the children seems a bit intimidating to you, don't worry. When you arrive at camp you will be given instruction in how to handle the children, and part of the tuition will cover this. There will also be experienced camp counsellors on hand who have seen what works well in previous years, and will be able to pass their knowledge on to you.
Examples of Group Activities at Summer Camp
Here are some typical examples of the kinds of activity that go on at summer camp, and which you may be asked to help organise.Singsongs – Singsongs are always popular. There are particular songs which are appropriate for a camp environment. If you don't know any, someone else will. Ask another staff member, or the children, to teach you.
Games – Apart from the obvious sporting contests, there are many games that can be played by a group of people, either with no props of any kind or only a few simple ones. You probably remember some yourself from your own childhood. If not, some of the other staff members can teach a few to you. There are also many websites which list and describe games suitable for summer camps. Bear in mind that the rules aren't hard and fast. Varying them creatively can spice things up a little.
Special events – Camps often incorporate special one-off events into the schedule for each group of campers. Sometimes preparatory activities will lead up to it, helping build up excitement through a sense of anticipation. Examples might include fancy-dress balls, a theatre performance or a talent contest.
Whatever the activity you'll find that enthusiasm, even fake enthusiasm, goes a long way. Enthusiasm – yes, even fake enthusiasm! - is infectious and can make even humdrum activities seem fun.
Organising Group Activities - Conclusion
If you're going to work at summer camp, you'll almost certainly be involved in organising group activities in some way. Don't get anxious about it, though. Just be confident and cheerful, and you'll carry the children along with you on a tide of enthusiasm.
You might also like...