Internet Connections Abroad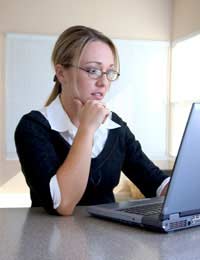 Many of us have come to regard an internet connection – even a broadband connection – as one of the essentials of life, much like the other utilities we take for granted, such as water or electricity.
But while just about any accommodation you move into abroad, whether it be a hotel room, a rented apartment or a property you have purchased, is likely to have water and electricity, there often won't be any internet connection. This can be a source of great frustration – even more so when you find that setting one up is often far from straightforward.
We don't realise it until we experience it directly : setting up an internet account can be very difficult unless you already have one, particularly if you don't speak the language or speak it only imperfectly. Your simplest option will usually be the company that provides your phone service, assuming you have one.
Even if your phone is already connected, a wait of two weeks or so before you get a broadband connection is not uncommon. If you need a phone too, it could well take much longer. Across Europe, the situation is often much as it is in the UK, where a single giant company, either state-owned or formerly state-owned, has a quasi-monopoly on the telephone service. Efficiency is something you hope for rather than expect.
When You Must Have an Internet Connection Abroad
What are your options if you really can't afford to do without the internet for months, weeks, or even days? Perhaps it's a vital tool you need to do your job.
First, assuming you have a phone, you could make international calls to a dial-up ISP in the UK. If you don't have a dial-up ISP account, it's fairly easy to set one up for free before you leave. There are even some pay-as-you-go dial-up accounts for which you just pay the price of the telephone call.
Clearly, making long duration international phone calls is going to be expensive. There are a few internet service providers which have been specially set up to address this problem. They provide a global service, allowing you dial a local number to connect to the internet just about wherever you are in the world. More expensive than a standard ISP, they'll nonetheless prove much cheaper than making regular international calls.
In most countries in Europe there will be low overhead dial-up ISPs for which you can just sign up online without having to commit yourself to a contract. Your problems will be a) locating them, b) finding a way to sign up to them without having an internet connection and c) understanding enough of the language to get through the sign-up screens.
If you know you're going to need a dial-up ISP in your new country, it would be a good idea to try and start up an account on one before you leave Britain. That way you can use your own internet connection in the UK to set up the new one, and can use online dictionaries to look up the words. For the sign-up you will usually need to know your address abroad, although these kinds of ISP don't actually send anything to you anyway, so perhaps you can bluff your way through that.
Broadband Connections Abroad
If you feel the need for speed, dial-up ISPs won't be of much use to you. You need a broadband connection. For this, until you can arrange for a connection in your home, your best bets are internet cafes and Wi-Fi connections. Most cities now have internet cafes and Wi-Fi is becoming increasingly widespread. Even some international fast food chains offer Wi-Fi as standard in many countries.
If you're not sure where to find a Wi-Fi connection in the place you're going to, you can check it out beforehand. There are websites which list all the Wi-Fi spots available in specific locales. Some Wi-Fi zones are free but most you will have to pay for.
Of course, your real goal is to get broadband in your new home. Broadband connections should be readily available through most of Europe; even in Eastern Europe they are now fairly common. Outside of the developed world, broadband connections should still be available in most countries, particularly in the major metropolitan areas, although they may be much more expensive than you are used to.
Experts compare broadband penetration in the developing world currently to the levels reached in Europe or North America around the year 2000. In desperately poor countries, such as those in sub-Saharan Africa, the only broadband option open to you may well be through your mobile phone.
Internet Connections Abroad – Conclusion
If you're one of those people who feels like a fish out of water whenever you have no internet connection, it's best to do your homework before you leave. A little preparation can go a long way, ensuring that you have some kind of service to tide you ever until you get a home broadband connection again.
You might also like...