Voting While Outside the UK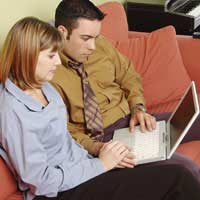 You don't need to lose your right to vote just because you decide to work abroad. An alarming number of expat Britons don't seem to know this, however. Although approximately 6 million British people live overseas, only 20,000 of them, about a third of one percent, are registered to vote in British elections.
Registering as an Overseas Voter
When you're living abroad you still have the right to vote in UK national and European Union level elections. You just need to apply to be a registered overseas voter. Note that registering as an overseas voter does not give you the right to participate in local elections, mayoral elections, or elections to any of the devolved governments in Wales, Scotland or Northern Ireland. If you are living in another European Union country, you will be able to participate in local or EU elections there. However, you can only vote in EU elections in one country.
To register as an overseas voter, you just need to download the application form from the www.AboutMyVote.co.uk website. To be eligible, you must have been registered to vote in the UK prior to leaving, or, if you were below the voting age while in Britain, your parents or guardians must have been registered to vote instead. When applying from abroad, you will need to find another British citizen – one who is not a close relative - to witness your application form and sign it.
Bear in mind that it does take some time for your application to be processed, so if you plan to register only at the last minute, you may be too late. To be safe, you should begin the registration process at least two months before an election is due to be held.
Casting Your Ballot From Overseas
Once you've been registered, you'll have two options about how to exercise your right to vote from overseas : by post or by proxy. You will need to fill in a separate application form for either of these two options, although this can be done on the same form in which you register to vote overseas.
If using the postal voting option, you will be sent a ballot 7 days before an election takes place in Britain. You will have to return the ballot promptly, paying the postage yourself, for your vote to count.
The voting by proxy option allows you to nominate someone else to vote on your behalf. This person should still be resident in the UK and entitled to vote there. Prior to each election, you are supposed to instruct the other person on how they should exercise your vote. Naturally, the proxy should be a person you trust. The proxy must be named on the application form you submit and can sign it but does not need to. When election day comes, the proxy must vote at your local polling station. If this is not convenient, the proxy can also request to exercise your vote by post.
Even if you are registered as an overseas voter, you can still exercise your right to vote in person if you happen to be in the UK on election day. Of course, this is only possible if your vote has not already been exercised in one of the other ways.
Conclusion
Don't let yourself become one of the voiceless millions of Britons who live and work abroad without a right to vote. With all of the forms available online, registering as an overseas voter is now easier than ever before, so you have no excuses left.
You might also like...