Should You Go Work Abroad on Your Own?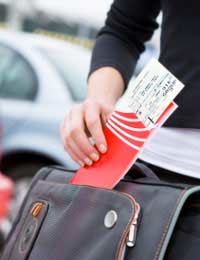 Making the decision to go and work abroad is exciting and exhilarating, whether you're going as part of a team, with a friend or on secondment from your employer. Choosing to work abroad on your own is a very brave move, but certainly one which will give you a whole host of interesting experiences.
So how do you choose? It largely depends on what opportunities are available to you, of course, but it is possible to create your own opportunities if you're clear about what you want.
How Long Do You Want to Work Abroad?
If you're planning on a short period of working abroad and are flexible about what you want to do, then you have a whole host of options available. Choosing to work abroad by yourself if you're not too choosy is the most flexible option because you can be nimble and open-minded.
Think about your current commitments (would you need to find a tenant for your home or can you just end the lease on your rented flat, for example) and whether or not you have time constraints (returning for a job, certain event etc).
What Jobs Are Available Short Term?
There are a number of websites that hook up people living abroad (often expats) with people that are looking for 'board and lodging' type work. These are usually manual labour jobs, such as grape picking in France, or helping to renovate a house in Spain, with a certain number of hours work each day (usually between 4 and 6) in exchange for somewhere to sleep and all meals. They tend to last between one week and two months and are usually during the warm, dry summers. There is often a small payment too. These are great for meeting all sorts of different people and having a bit of an adventure, although they are unlikely to help you progress in your career.
What Jobs Are Available Mid-Term?
If you're thinking of working abroad for a little longer than a few weeks but do not want to commit yourself long term, there are also a number of opportunities available for people on their own. Online recruitment sites are a good first port of call – think of looking at sites like Gumtree and Craigslist as well as 'traditional' recruitment sites as you're more likely to find unusual opportunities. Just be careful to check out any potential employer before you commit to meeting.
The types of jobs you may come across include helping to coach children though their exams, assisting retail/marketing/sales companies during busy periods in certain seasons and other seasonal work like campsite management. It is hard to suggest ideas as there are so many possibilities out there – it's all about finding them!
What Jobs Are Available Long-Term?
Members of EU states are entitled to travel and work freely throughout the European Union, so if you're thinking of working abroad for longer than a week or a season, you may consider a real career move. You will need to factor in language issues, health insurance and tax implications of working outside the UK on a longer contract or permanent basis. It is imperative that you write your CV in the style and language of the country you wish to work in.
You might also like...