Getting a New UK Passport When Working Abroad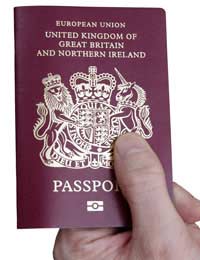 If you happen to be working abroad when your UK passport is up for renewal, you can still get a new passport, as long as you leave plenty of time and plan carefully.
Before you leave the UK, it is a good idea to check how long you have left on your passport as it is certainly easier to get an updated ten-year passport if you are still within the UK. Please remember that is takes around three weeks from the time that the newly-formed Government Identity and Passport Service (IPS) receives your application until a new passport is granted, so this is the very minimum time you should allow, although they do not guarantee this time frame.
Passport by Post
There are also two quicker ways to get an updated passport, although these are rather more costly than the standard application (currently £72). You can also use the one week Fast Track service, which costs £97, or the Premium One Day service at £114. Please note that both of these services are by appointment only at your local passport office.
If you are just out of the UK for a short while, it is worth checking to see if you can hold on until you get back – although you must make sure that you have plenty of time left on your passport so that you can get home without any hassle.
A New Passport While Visiting the UK
If you simply have to update your passport while you are out of the UK, you can apply to get your new passport while visiting the UK. You are not currently able to apply for a new passport by post and have it posted to you outside of the UK, although it may be possible to apply by post if you have a friend or relative in the UK, although you must take care to comply with the rules and allow plenty of time to have the passport returned to you.
The most popular option for people currently based outside of the UK is to renew their passport in person at a regional passport office in one day, by appointment, when they are visiting friends and family back in the UK. You are still required to pay the relevant fee. There is a very helpful Government passport advice line that is able to give information on where and how you can apply for your passport in person while visiting the UK, including what paperwork you are required to bring and how long you can expect to wait.
It's Worth it
Although it may seem like a bit of a hassle to come back to the UK to renew your passport, it is nothing compared with the difficulty that you will find yourself in if you allow your passport to expire while you are outside of the UK. Understandably, passport control and border control is very tight, so unless you want to have to answer lots of questions and face the possibility of lengthy delays in getting back home, it really is worth making sure you have a valid UK passport for at least the duration of your time working abroad – allowing plenty of time for getting home.
You might also like...