Things to Know About Working in Portugal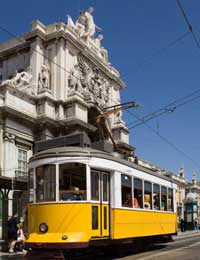 Portugal has never attained the popularity of Spain as a destination for British expats, but it does attract regular interest as a kind of cheaper, more off-the-beaten track version of its larger Iberian neighbour.
Working in Portugal
For anyone thinking of going to Portugal to work, it's very important to be aware that the Portuguese economy is extremely sluggish. Unemployment is high there. Earnings are low - well below the EU average - and many Portuguese are forced into low-level self-employment because of the lack of jobs. Expectations should be tailored accordingly.
The truth is that no one in their right mind would go to Portugal for the work opportunities alone. People go for other reasons - like the sun, sand and lifestyle - and try and earn enough of a living to make their presence there sustainable. You should also know that English is not widely spoken and you must master Portuguese if you want to work with Portuguese companies.
The best work options for a British expat may hinge on your status as a British expat : either leveraging your English language skills to teach English as a foreign language; or using any trade skills you have to cater to the expat community.
Many English-speaking expatriates - whether for linguistic or cultural reasons- prefer to deal with others like themselves and are often prepared to pay more for, say, a British plumber than it would cost to hire a Portuguese plumber. If this is what you're aiming for, you should know that the expatriate community tends to be concentrated around the Algarve region. Word of mouth would work best for you here so, once you arrive in the region, do everything you can to mix and mingle with your fellow expatriates and pass the word around.
In face, word of mouth and personal connections tend to be especially important in Portugal even outside of the expat community. Many jobs are filled through personal contacts rather than advertised in the press. So get glad-handing if you want to live there long-term, and build up a network of friends and acquaintances. You never know when it will be useful.
Bureaucracy in Portugal
One very important thing to be aware of if you're considering coming to Portugal to live and work is how bureaucratic the country is. Government permission is needed for many things and the bureaucracy moves slowly. Old fashioned red tape still strangles any chance of economic dynamism.
Many professions require licence and certification. For example, even if you're a builder, you may not be able to come here and build your own house, much less anyone else's. You may have to be registered and certified first. Although this is true of many professionals, such as doctors or lawyers, in the UK, in Portugal the creep of such regulations tends to extend even more broadly.
Particularly for self-employed people, it's something to be aware of. You may earn a living selling pink fluffy bunnies on eBay back in Britain, for example, but find you can't do it in Portugal because you're not a paid-up member of the Portuguese Pink Fluffy Bunnies association. OK, this is an exaggeration, but you get the drift!
Like all other EU countries, however, Portugal is obligated to maintain organisations - such as NARIC - to provide assistance with the recognition of professional and academic qualifications from other EU member states, so those should be your first point of contact if you are concerned about your professional status in the country.
Just as in Spain, a distinct professional class has emerged to deal with the problem of bureaucracy, and you may find it worthwhile to employ an agent to act on your behalf rather than fight the battles yourself.
Working in Portugal - Conclusion
Unless you can carve out a special niche for yourself, earning a living in Portugal is not likely to be easy. Fortunately, the pleasant environment and the low cost of living offers great compensation for any difficulties.
You might also like...
@ella - you would have to check whether you can apply via the website
here
. I hope this helps.
GoWorkAbroad
- 26-Feb-15 @ 11:45 AM
my family and I are thingking to relocate to protugal from South Africa. Money is not a problem but my husband needs to be busy. His an Doctor in IT. do you think he will be able to get a job there
ella
- 24-Feb-15 @ 11:32 AM
A good place to spend your retirement though. Working is an inglorious quest. I'm Portuguese, self-employed and I also employ other people. It's almost impossible to make a profit. There seems to be somekind of implicit rule against profitable businesses. Too many taxes, tax-like contributions, licences etc. which of course you have to pay for. The idea of earning a living selling pink fluffy bunnies on e-bay in Britain sounds very appealing. Feel free to tempt me. ;-)
Fortitudine
- 26-Jul-12 @ 6:27 PM
Hello,As a portuguese, let me say a few things about life/working in Portugal. I'll try to be as unbiased as possible:It can be a very beautiful place or a country where your spirit just dies slowly. Or both. Your success doesn't depend at all from you skills, but in who you know. There's no such thing as meritocracy; it is almost impossible to start form bottom and climb your way up. If you are a waitress/er, you'll be condemned to such condition, independently of your skills. You'll have to work hard to even pay a rent, buy some food (the basics) and get hold of all the bills. The minimum wage is 475€. The lower rents, in Lisbon, round about 400/500€. For 2 adults: Electricity, some 50€ (2 months); water bill, about 30€ (more or less, also 2 months); food (basics for a month), about 200€. Some jobs don't even pay the minimum wage, meaning you'll need 2 jobs, or 2 persons. Contracts are in extinction (it's easier to get you fired). What I'm trying to say here is that you can't come to Portugal hoping for the best. I just want you to have these things in mind. But you also can be lucky. But that's all there is: luck.
mike
- 11-May-12 @ 7:00 PM