Permission to Work in Canada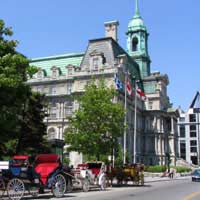 Canada has always been a popular destination for British migrants. What's more, it's a country which has always welcomed newcomers, as illustrated by the fact that today almost one fifth of the Canadian population is foreign born. With a landmass almost equal to that of the United States, yet only a fraction of its population, Canada clearly still has a great deal of potential yet to be fulfilled.
Options for Working in Canada
If you want to work in Canada, broadly speaking, you have two options: you can apply for permanent residency there, or you can apply for a work permit. Work permits require job offers from Canadian employers and take about six weeks to process; grants of permanent residency do not require a job offer - though they are easier to get if you do have one - and can take years to process.
The main route for immigration to Canada lies in what is called the Skilled Worker Program. To be eligible, your profession must be listed under the O, A or B categories in Canada's National Occupational Classification List. The skills deemed most in demand change somewhat over time so it's best to check for up-to-date information on the Canadian immigration website. It's fair to say, though, that managerial occupations, jobs requiring tertiary education or other substantial skill training are heavily favoured.
Canada operates a points system for prospective immigrants. You get points for your age, education, work experience, having a job offer, being able to speak French and being "adaptable". Self-assessment tests are available online which can give you an idea of how you are likely to fare on this points system.
If you don't have a job offer from a Canadian employer, you will be required to present proof to the Canadian authorities that you have sufficient funds to support yourself and your family. There are specific figures for the amounts needed, which vary depending on the size of your family. Consult the Canadian immigration website to learn more.
Securing Permission to Move to Canada – the Application Process
Canada offers two forms of application for permanent residency: simplified and regular. Under the simplified process, you enter your application without any supporting documentation, which you will be asked to provide in due course as your application is processed. In the regular process, you have to present all of your documents at once. Most applicants are eligible for the simplified process. All fees are payable by the applicant in either case.
For work permits, if you are able to secure a job offer from a Canadian employer, the employer must seek a Labour Market Opinion (LMO) from the Human Resources and Social Development Canada (HRSDC) agency to have it confirmed that your acceptance of the job will help address a labour market shortage in Canada. You normally need the LMO before you apply for your work permit but, for certain occupations, you can ask to have your LMO and work permit applications processed concurrently. In cases where the application is ultimately unsuccessful, though, this can mean that you have spent more money on it than you would have otherwise.
Gaining permission to enter Canada requires that you be healthy and have no criminal record. As your application progresses, you may be required to undergo a medical examination from a nominated doctor in Britain, and to submit a certificate from the police verifying that you have no criminal record. If you do have a criminal record, depending on the nature of your offence, it may still be possible for you to enter Canada if enough time has elapsed since you served your sentence.
Work in Canada – Conclusion
Patience is required if you want to work in Canada, but, by all accounts - with its high standard of living, excellent healthcare system and splendid scenery – Canada is well worth the wait.
You might also like...
Im from the bahamas im planning of moving to canada.what are the requirements.
marts
- 23-Jan-13 @ 7:50 PM
Its great,for now im retiring from my present Job as a military man with the Armed Forces of the Philippines, and Im planning to work with Canada. as a military forces or a Security personnel. But my problem if I apply for a job in Canada , are they hired me? I am physically fit, im at the age of 43 this coming April 1, 2013. My cut off date is 31 December 2013. good daysir/madam Roger
Roger
- 17-Dec-12 @ 7:09 AM