Getting Married Abroad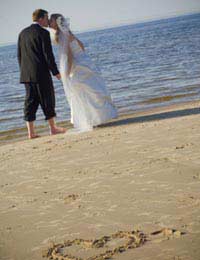 If you decide to get married while you are living and working abroad there are certain practical details that you need to consider. As with all manner of paperwork issues when you are outside of the UK, it is an awful lot easier if you are organised, get the right information in plenty of time and don't assume that other countries do things the same. In fact, in many cases, the situation in the UK isn't even comparable to the UK in that they have totally different requirements, so it's not simply a case of working out the equivalent of the UK situation.
Is it Legal?
Perhaps one of the first and most important questions to ask is will your marriage be recognised as legal in the UK. While it can be terribly romantic to have a beach ceremony on an exotic island, you need to ensure that you are signing up to what you think you're signing up to!
Thankfully, now the ever-growing trend of getting married aboard is more regulated and recognised, there is plenty of official information about. Bear in mind that this also means that plenty of businesses have popped up offering to help arrange 'the foreign wedding of your dreams" – as long as you part with your cash! Unless you choose this option with an open mind, it's good to know that you do not have to use a company, as all the information you need is available at your nearest British Embassy or Consulate.
If you are already overseas, simply find your nearest – they have a good website with a list, but you could also look in the phone book or ask at the Tourist Information office or post office. Remember that even though all countries in the world have a British Embassy presence, they may not have their own office, particularly small islands, which can be popular wedding locations.
If you are in the UK but plan to get married abroad, you can ask for advice from the UK Embassy of the country in which you wish to get married, with some advice also available from the British Embassy.
What Paperwork Do I Need?
Although it's impossible to list here all the things you may need to get married in any country, it is worth noting that a common document requested in overseas marriages is the 'Certificate of No Impediment'. Called all sorts of things in different countries (Nulla Osta in Italy and Certificat de Coutume in France, for example) it is essentially an official document that shows you are legally free and allowed to marry.
You will need the paper work of the country in which you are marrying, rather than the English equivalent, so do get advice of this in plenty of time to avoid issues with the actual marriage when you set a date.
It is also good to note that while your marriage abroad may not be registered in the UK in the same way as a marriage that took place in the UK, assuming you have married abroad in a legal fashion, you can have your marriage documents 'deposited' at a British Embassy so that they are recognised.
Please note that even though civil partnerships are recognised in the UK, and in many other countries, at the time of writing this is not the case in all countries, so this must be checked before you start booking flights and sending out invitations.
You might also like...