Are Language Skills Needed to Work Abroad?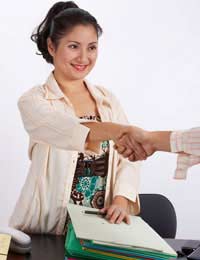 We Britons are famous, or should that be infamous, for our lack of language skills. If it's any comfort, we're not the absolute worst in Europe in that respect. That honour goes to the Irish, 66% of whom admit to having no knowledge of a foreign language. For us, that figure is the slightly more creditable 62%. Still, for those of us nurturing dreams of working abroad, the language problem is potentially a big barrier. But thanks largely to America's pop culture exports, English has established itself as the closest thing the world has to a lingua franca. So just how important is it to have mastered the native language of the country you're thinking of moving to?
English Language Knowledge Across Europe
According to one study undertaken by the European commission, English is the most widely spoken second language in Europe. A full 38% of EU citizens can hold a conversation in English. In most countries where knowledge of English is fairly widespread, naturally enough it tends to be the more educated people who have it. It's very rare to find that English has penetrated so deeply into the population that you can just walk around using it casually in shops without asking first. Indeed, the Netherlands, Malta and the Scandinavian countries are about the only places in Europe where you can probably get away with this. Even there, if you move outside of the big cities, this may not hold true.
To generalize madly, some things can be said about the prevalence of English language competence across Europe. The first thing is that small countries tend to have more of it than large ones. Perhaps people in large countries are more culturally self-confident and so feel less need to acquire a foreign language. The second thing to note is that northern countries tend to have more of it than southern ones. So if you plan to get a job as, say, an office administrator in sunny Spain and the only word of Spanish you know is "Cerveza", you should probably think again.
Getting a Job Abroad Without Knowing the Native Language
For the purposes of actually living, you can definitely get by with just a phrasebook knowledge of a language. It's in the workplace itself that something more may be needed.Even when, in the country as a whole, native language competence is needed for most workplaces, you'll always find that there are exceptions to the rule. Of course, there are specialised jobs which actually hinge upon your knowledge of English, such as those serving an expatriate community, or communicating to an international audience. But even apart from these, some companies do choose to adopt an English language policy in the workplace. These tend to be companies which are oriented towards international markets or which are branches of multinational corporations.
In some cases, you also find that companies within specific business sectors strongly favour English. To take an example, IT companies often adopt an English language policy even for internal discussions. A high level of English knowledge can be presumed in certain professions. In IT, many of the computer languages used originate in America; much software documentation is in English; if an IT company publishes an API or documentation for its products, its customers will generally expect to read it in English. For these and similar reasons, there are often niche sectors where English-only is fine, even if that's not otherwise the case in the larger economy.
Even if you do land a gig somewhere without needing to know the native language, either because your job involves English language competence, or because the company has an English-language policy, you should still make strenuous efforts to acquire the local language. Why? Because it will help you build up a rapport with your work colleagues if you can understand the native language small talk that will occasionally be heard as well as participating in the more official English-language discussions. You also have to take into account that you may not work there forever. Your opportunities broaden significantly once you can fit into other native language workplaces. And even if you feel secure and happy in your position as it is, the country might just be in the upswing of an economic expansion when skilled employees are in short supply. Once recession hits, and firms feel the need to do a bit of downsizing, you can be sure it will be the non-native speakers who are shoved out the door first.
Language Skills - Conclusion
Whether you need native language skills, then, really depends on where it is you're thinking of working and what business sector you're in. Even when you find an English-language niche somewhere, you'd be well advised to make an effort to learn the local language as quickly as you can. If languages just aren't your thing, oh well, there's always Australasia and North America. Then all you need's a visa.
You might also like...