Driving Outside the UK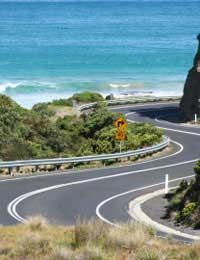 After you've been through one stramash with the bureaucracy to get your visa, don't breathe too easily. You may have to go through another to get on the road.
Driving in Europe
When to go to work abroad in Europe, you will probably want to drive a car there because that's what you're used to doing in the UK. You may find that it's not quite as necessary as it is in Britain, though, thanks to the generally superior public transport systems. In Switzerland, for example, many people just do without a car because the terrific public transport makes it easy to get from one place to another without difficulty.
If you are determined to drive, your British driving licence is valid throughout the European Economic Area (the European Union plus Iceland, Liechtenstein and Norway). If you are planning to stay abroad long-term, however, it will probably be worth converting your UK driving licence into one issued by the country you move to. In some countries, staying beyond a certain length of time, or incurring penalty points on your licence, will require this. Normally, you will be able to convert your British licence just by paying a fee at a government office. In some countries, you will have to undergo tests or classes first, however.
Just because your driving licence is accepted, though, don't think there are no differences between road regulations in Britain and elsewhere - and it amounts to considerably more than just driving on the other side of the road. In fact, there are so many differences that you really will need to spend time studying the distinctive characteristics of law and practice related to driving in the country you plan to emigrate to. It's impossible to go into all of the specifics in a general article. However, here are some key differences you should be aware of :
The minimum driving age is higher in some countries than in Britain.
In Austria you're required to carry a first-aid kit.
Most countries on the continent require you to carry a triangle reflector you can use to warn other motorists of a potential hazard.
Some countries require you to carry reflective jackets which you must put on if you need to be active outside the car, for example to replace a tyre.
If you're taking a car from Britain to your new home, you will need a headlight converter to adjust the intensity of your headlights for countries where cars drive on the other side of the road.
In some countries, such as France, you're required to carry your driving licence, insurance documents and vehicle registration with you at all times while driving.
Driving Outside Europe
If you're moving somewhere outside of the EEA, it's considered best to apply for an International Driving Permit before you leave. You can get these from the Post Office or from motoring organisations by paying a small fee.
Rules and regulation will vary much more widely outside Europe. In some cases, such as Australia, things will be relatively straightforward. Your British driving licence will be accepted as testifying to your basic driving competence and you will be able to get an Australian one for a modest fee. In other countries, you may have to go through a series of tests again in order to get a licence.
Driving Outside Britain
Britain has one of the best road safety records in the world so, when you move abroad, and depending on which country you move to, you should be prepared to encounter a different driving culture. You may find there are different behavioural norms on the road when compared to the UK. Some of this may result from a difference in the law. For example, in some countries overtaking another car on the inside is perfectly acceptable. Other differences may derive from a distinct culture. Drink-driving may be far more common, for example, than it is in the UK, where decades of police campaigning have had some success in shaping our views of acceptable behaviour.
In some countries, notably the United States, automatic transmission vehicles are the norm and manual transmission cars, which predominate in Europe, may be almost unheard of. If your only driving experience is in a manual car, you will need to get used to driving in an automatic.
Conclusion
Wherever you go, caution should be your watchword for the first few weeks or months on the road in your new country. As well as acquiring the habit of driving on the wrong side of the road, you may need to get used to a different driving culture.
You might also like...
Hi Titch, You will certainly have to complete an Air Brake Test for vehicles over 3.5 tn. I have been looking into it myself as I have exstensive driving experience in Europe but can`t seem to find any work here in Blitey. Don`t suppose you could give me any tips in my job search.?
Jamie
- 22-Feb-12 @ 4:07 PM
I will be settling down in Canada to live in about 2 years time. I am qualified to drive most vehicles. Will I have to do a Canadian driving test again and will I have to redo all my catagories again such as C + E (Cat 1)?I hope you can help
Titch
- 20-May-11 @ 2:21 PM