Etiquette Abroad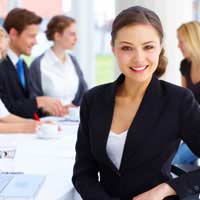 When you decide to go work abroad, fitting in is important. Learning the language is part of it, but more than that, there are behavioural and cultural norms to consider - habits and customs that may be very different from what you're used to in Britain.
How to Address Your Colleagues Correctly
One potentially tricky issue in many countries comes from the fact that many languages have separate words for "You". One is used to address someone with whom the person is on close personal terms; the other is used to address everyone else. Since native English speakers are completely unfamiliar with this distinction, deciding when to use one or the other is something you'll have to learn. There are no hard and fast rules about when to use each form. In general, however, it is customary to use the more formal mode of address when addressing elders, superiors in rank within a company or persons with whom you have just become acquainted.
Sometimes companies have explicit policies about the issue; at other times, your interlocutor may suggest using the familiar form. In the absence of such clear guidance, your goal should be to observe the way in which native speakers use these terms and just copy them. Don't be the first to use the familiar "you".
Tips To Help You Fit in When You Work Abroad
In some countries, particularly on the Continent, there is much more bureaucracy in general than in Britain. It's an accepted part of life there and you just need to adapt to it.
Let caution be your watchword if you're unsure of how to act in a certain context. Watch what others do, then copy them.
Humour can be one of the thornier etiquette issues when you're working abroad. You'll find that the sense of what is acceptably funny can vary quite widely. Therefore it's best not to try cracking any wild or risqué jokes until you've been there for some time and absorbed a sense of what's acceptable and what isn't.
In some cultures, face-to-face contact is prized much more highly than in Britain. When taken to extremes, this can mean that it's hard to get things done unless you go and see about it in person.
Some countries have a much greater sense of hierarchy in the workplace than is common in Britain. It may be uncommon for junior level employees to approach higher-level managers directly, for example.
In some countries, it is the custom for workplace colleagues address one another by their surname. This sounds quite bizarre to British ears - after all, it would be considered rude here - but you will get used to it.
In many countries, meals are much more important than in Britain. Long lunches are sometimes the norm. If you're in the habit of taking a packed lunch or just grabbing a sandwich, be ready to drop it if that's not what the others in your workplace do. In countries like Spain, work colleagues will sometimes eat evening meals together and those meals may not even start till very late in the evening, so try and adapt your familiar eating rhythms to those of the local culture.
Be ready for a change of pace in the workplace. Some countries are much more relaxed than Britain; others are more hard-charging. A good illustration is how many days of holiday an average person takes per year in different countries. In Britain, it's 24. In the USA, however, it's only 14, while the lucky French have a whopping 39.
Above all, it's important to remember that there is no need to over-obsess about etiquette. Don't think that there is some hugely elaborate set of rules you must follow and if you make a single mistake you will ostracised and abhorred for the rest of your life. People are people the world over and their basic outlook and motivation is the same. If people see that you are making an effort to integrate, they will be sympathetic, even when you make a faux pas.
Etiquette Abroad - Conclusion
Adaptability is required when you decide to go work abroad. Meshing with the local culture is part of what's involved and to do that successfully you'll need to develop a sense of how social etiquette in your new country differs from that in Britain.
You might also like...