Writing a Blog to Stay in Touch With Family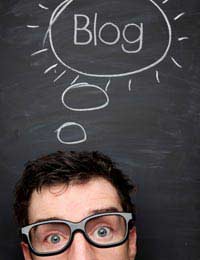 Writing a blog is a great way to keep in touch with family and friends while you are living and working abroad. Think of it as a modern-day (and far cooler!) round robin letter – you get to share your adventures with the people you love without having to spend hours of time (and lots of money) writing or phoning people.
Although it is relatively easy to start up a blog, the blogs which are most enjoyable to read are the ones where people put some effort into their writing style, take some decent photos and remember amusing details about their travels rather than just a running commentary of everyday life.
Of course, you are not pitching your 'go work abroad blog' for the Pulitzer Prize, and you'll have a captive audience with friends and family, but for very good reasons (coming up later) it's worth your while starting as you mean to go on. Here are a few of the decisions you need to make before you start your blog.
What Blog Service to Use?
There are all manner of blog template sites available on the internet, and they are all easy to find and use. Perhaps the main consideration is what name you want to call your blog – they all have a title that's like a website address – it's probably best not to use your own name, but rather a nickname or something related to your circumstances, like 'A Nanny in Paris' so you keep private yet easy to find.
Details or Private?
You don't just want to launch straight into writing a blog that says where you are and what you're doing everyday. Even if you only tell your family and friends about your blog, it'll be easy for people to stumble across and you'll never know who knows what you're up to. You can still keep your blog informative and entertaining by simply detailing the places where you have visited, but keep the dates, times and exact details a little vague.
Find Your Writing Style
Think about your audience and what type of information you want to share with them – if you're having a riotous old time in the bars and clubs of your new location, you may not necessarily want your Gran to know all about it! Similarly, if your old boss is on your friends list, you may not want to seem unprofessional. It's best to not swear or use crude language as a rule anyway.
Future Possibilities
Although there may come a point relatively soon when having a blog is absolutely no big deal, at the moment they are still quite an unusual pastime, and so can attract some attention. Of course, not everyone that starts a bog-standard blog gets a book publishing deal, but there have certainly been a number of examples where people start a blog in a particular specialist area (cooking, travel and relationships seem most popular) and as they gain more followers, so too do they reach the attention of people 'in the know'. Bloggers are fast becoming an important part of a marketing or PR strategy, so start as you mean to go on by making your blog interesting, amusing (if appropriate), suitable for a range of readers and updated regularly.
You might also like...