Remotely Accessing Your PC While Abroad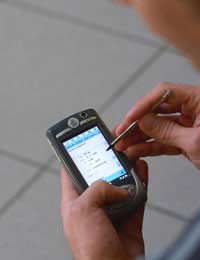 If you're working abroad temporarily for a time, the chances are you're going to miss the powerful computer you have at home or in the office.
Maybe you don't have a laptop with you, or perhaps you do but it's not quite as capable as the desktop computer you're used to working with, doesn't have the same range of software installed or lacks some of the configuration settings and customisation options you've set up on the more powerful machine.
Wouldn't it be cool if you could access your home or office computer from afar? Good news : you can, and it's not that hard. Here's what you need to know.
What exactly does Remote Desktop software do?
It allows you to access the remote PC just as if you were using it locally. You will be able to start programs, see the display and access the graphical user interface just as you would normally. Some remote desktop packages offer additional capabilities such as chat or file transfer functions too.
Is it really just like using a local machine?
Yes, but because you are accessing it over a network, there will be some latency, meaning a delay. It depends on the quality of your Internet connection, but you should usually expect the GUI to be slightly less responsive than it would be normally. With a very good Internet connection, it can seem just like using your local PC.
Where can I get Remote Desktop software?
There's a good chance that you already have remote desktop software without even knowing it. Remote Desktop facilities have been built into nearly all recent versions of Windows. They are not activated by default, however, because they are deemed to present a slight security risk.
If you don't have remote desktop software built in, or want something with more capabilities, there are plenty of other software options available, ranging from commercial software which requires a paid-for subscription in order to use, to perfectly good free open-source software on a variety of platforms.
What if someone is using my computer at the time?
Different software packages handle this situation in different ways. Some will show you exactly what the other user is seeing and vice versa; others will log you into the computer on a different account (note : sometimes this forcibly logs the other user out too).
Does I need to use the same version of an operating system to use remote desktop software?
No. You can access a Windows XP machine from Windows Vista. In fact, you could access a Linux machine from Windows or a Windows machine from an Apple Mac. It's even possible to remotely access a PC from an iPhone! The remote desktop protocol is generic, and implementations of it exist for a variety of platforms.
Is there a security risk from running Remote Desktop software?
There is a marginally increased security risk from running Remote Desktop software. However, as long as you select sensible passwords and keep your computer's application and security software properly updated as new patches for it are released, it's very unlikely you will have any problems.
How do I set up Remote Desktop Software?
Instructions will vary with each application, but, generally, you will create a username and password to allow yourself to log in remotely. Afterwards, you just start the program running and it will then constantly listen for attempts to connect to it from afar. When it detects one, it will issue the ID challenge, and, assuming you enter the correct information, you'll be in.
Remote Access To Your PC From Abroad – Conclusion
If you miss the comforts of your mighty home or office computer, remote desktop software offers a solution.
You might also like...
Remote Desktop technology has opened a new discipline of computer support. PC support provided through remote technology is quick, reliable, and secure. Some of the remote software applications worth mentioning are TeamViewer, Logmein Rescue, Techinline and R-HUB remote support servers.
Prasanta
- 17-Aug-17 @ 7:20 AM