Emergency Help Overseas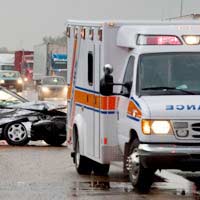 It pays to be prepared for an emergency when you go to work abroad, even if it's just for your (and your parents') peace of mind. Rather than wait until the time, which hopefully will never happen, that you need emergency help, why not arm yourself with some information that can reduce the stress of an emotional and difficult situation.
European Emergency Assistance Number
Your first port of call will depend on the circumstances. For emergencies involving illness, fire or your immediate safety, the European Commission has been pushing the awareness of the Europe-wide emergency assistance phone number, 112. Anyone can call this number within the EU for free from both landlines and mobile phones. Callers are dealt with in either English or the national language of the country from which you are calling (both are available on all calls) and you will put through to the appropriate emergency service.
The European emergency assistance phone number 112 was launched in 1991 in order to provide a single point of reference for Europeans in difficulty throughout the EU and it offers direct connection to emergency services in the country you are calling from.
Foreign and Commonwealth Office
For legal or official emergencies, such as your passport being stolen or if you're in some sort of trouble overseas, the Foreign and Commonwealth Office, or FCO, should be your first port of call. The FCO represents all the British Embassies and High Commissions overseas and every country or territory has some sort of FCO presence. In Europe, you will usually find the British FCO in the capital city, with many major cities also having some British official representation. It is worth noting that the FCO will support British nationals even if they are not currently resident in the UK.
Although the Foreign and Commonwealth is unable to offer legal advice or give you money, they are always able to point you in the right direction for assistance, in English. In exceptional circumstances where your family or friends are unable to help, the FCO may, for example, lend you money to get home, but you will need to pay it straight back.
Travel Insurance
Travel insurance is a definite necessity when you chose to go and work abroad. It is worth shopping around before you leave to get the best deal and make sure that you find a policy that actually suits your requirements, rather than just the cheapest. For example, if you're planning to work as a teacher in Italy or France, you may take advantage of the skiing on offer locally in your spare time, so make sure that your insurance policy covers skiing and other 'dangerous sports'.
Finally, take note of your travel insurance policy and keep in with you at all times – just write the policy number and a contact phone number on a card and keep it in your wallet. Give this information to your friends or family, too. Write the number of your nearest FCO or British High Commission and keep it too – it may seem unnecessary but it is certainly better to be safe than sorry!
You might also like...